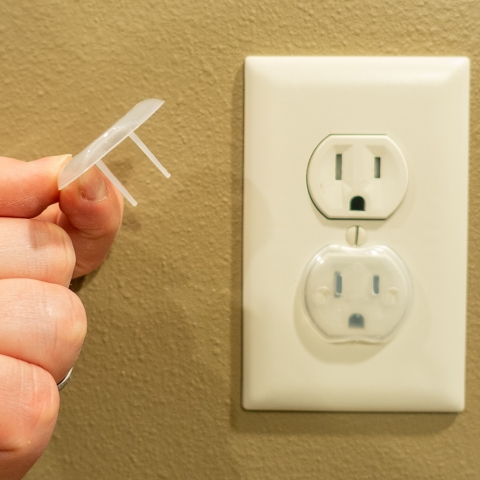 Here are some ways to reduce the dangers in your home
It seems babies can go from cute little bundles of joy to determined crawling machines in a blink of an eye.
 
Once they are moving, babies can be surprisingly fast. Turn your back for an instant and they can be in trouble before you know it. While you always have to be on your toes around small children, here are some ways to reduce the dangers in your home.
Cover your electrical outlets
Block them with furniture or use safety plugs and outlet covers. 
Install child-proof latches
Secure them on lower cabinets and drawers in both the kitchen and bathrooms. This should help protect them from getting into knives, breakable objects, heavy pots, garbage cans, medicines and toxic chemicals.
Move dangerous items out of reach
While you can lock up cleaning agents, medicines, hand sanitizer, vitamins, toiletries, mothballs, dishwasher pods, laundry pods and other potentially toxic items, it's also a good idea to put them high enough that children can't reach them.
Add an appliance latch to your oven
Unfortunately, many ovens are right at child level and toddlers may try and pull themselves up on the handle. You can also add knob covers to your stove.
Use doorstops and door holders
These keep children from accidentally smashing their fingers.
Install window guards or window stops
These are particularly important on second-story windows. You don't want your child to be able to raise the window high enough to fall out. However, make sure the guards or stops can be quickly removed by an adult in the case of an emergency.
Raise window curtain and blind cords
These are a choking hazard. Shorten them or use safety tassels and cord stops.
Install safety gates
Put ones that bolt into the wall at the top and bottom of your stairs to prevent falls. Use temporary, pressure-mounted safety gates when you need to temporarily confine your child.
Install a fireplace grill
Keep it in place when a fire is burning. Make sure you also move gas fireplace keys, matches and fireplace tools out of reach.
Attach corner and edge guards to furniture
Furniture can be sharper than you think.
Secure furniture that can easily topple
Mount bookcases, tall chests of drawers and large flat-screen TVs to walls.
Install toilet-seat locks
Drownings happen more frequently than people realize.
Mark sliding doors and floor-to-ceiling windows
Add colorful stickers to them to prevent your toddler from accidentally walking through them.