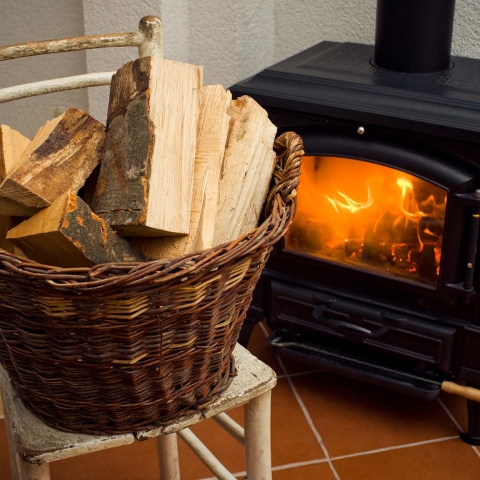 Prevent Creosote Build-up
Did you know, at the beginning of this decade the census showed wood heat or solid fuel was the fastest growing heat source, growing at a 34 percent higher rate than in the previous decade. And currently, it is the third most used heat source in the country.
According to the Insurance Information Institute, "The resurgence of the wood burner as a supplementary source of heat has led to an alarming—and growing—number of fires traceable to careless installation or misuse."
What to know before you buy a wood stove
Ensuring the safety of your home, farm, and family starts with making sure the wood burning stove meets safety standards. One way to verify safety is to check that the wood stove is approved by the Underwriters Laboratories, Inc. (UL). This nonprofit organization tests and certifies products for safety. Also, before installing your stove, check with local authorities to confirm you are complying with local fire and building codes.
How to safely use a wood stove
Once your wood stove is safely installed, it's crucial to perform regular maintenance and cleaning. The National Fire Protection Agency (NFPA) suggests chimneys, fireplaces, and vents be inspected every year for soundness, freedom from deposit buildups, and correct clearances.
One of the biggest safety concerns is creosote build-up. Creosote deposits occur when unburned gases condense in stovepipes or chimneys.  According to Purdue Extension, you can minimize creosote build-up in your chimney by burning dry wood in a small, hot fire rather than in a smoldering fire. Refueling at frequent intervals helps. When refueling a stove, allow the fire to run hot for about 10 minutes to heat up the fuel and chimney. Short stovepipes and chimneys located on inside walls will heat up rapidly and thus help prevent creosote condensation.
Creosote buildup can't be cleaned effectively using home equipment - a professional needs to remove it. In fact, you should have your chimney professionally cleaned every 70 burns for dry wood. Professional inspection and cleaning is very affordable and can save you the headache and heartache of a house fire. 
Make sure your insurance is up to date
It's important to protect your family, and safely installing and using wood stoves is one of the ways you can look out for them. With the increased chance of fire that comes with a wood stove, you may also want to check with your insurance agent to be certain your installation won't change your insurance coverage. And instead of being a DIY-er in this situation, consider hiring a professional to install the unit. In many cases, putting in a wood stove without a professional could jeopardize your insurance coverage. Ask your insurance agent what to consider before you start – just to be on the safe side.