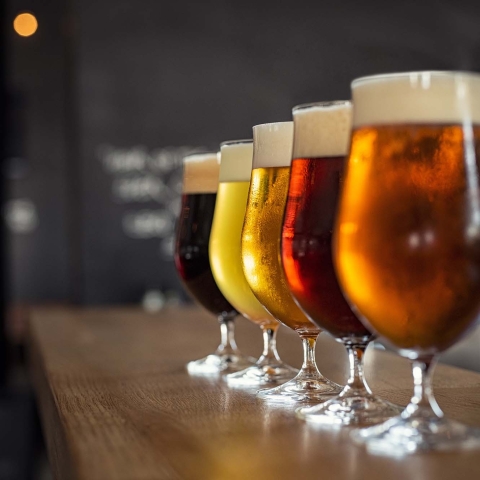 Craft Customized Insurance Coverage for Your Brewery
Craft breweries are renowned for their exceptional flavors and attention to detail in their craftmanship. In turn, breweries require insurance coverage that is as unique as their brews. From protection against property damage to liability coverage for events and tasting rooms, there are numerous coverages a brewery may need to safeguard its business. 
Like all brick-and-mortar businesses, breweries face risks such as fire, theft, and natural disasters that can disrupt day-to-day business and lead to substantial financial losses. Additionally, there needs to be protection for liability issues such as slip and falls as well as products and completed operations coverage. A properly constructed General Liability policy can provide these needed coverages.
Knowing you have the right insurance can help you focus on your business with greater peace of mind. Here are some specialty coverages from Indiana Farmers Insurance: 
Property in Transit 
Protect your product while it's in transit to restaurants, events, stores, and more. Not only do you need coverage for your beer, but you also need it for other business personal property, such as merchandise, displays, and more while in transit or away from the premises. 
Limited Product Withdrawal Expense Coverage 
This would cover expenses related to notifying customers, recalling products, and removing them from the market - whether you need to store, dispose of, or destroy the product. This would also take into consideration the overtime expense for employees to complete this extra work. 
Brands and Labels 
This endorsement can provide coverage for the cost to remove brands and labels and/or stamp salvage on merchandise that has been damaged by a covered cause of loss. 
Refrigerated Products
Customers expect to enjoy the perfect pint, served ice-cold. What happens when things go wrong? Perhaps a sudden power outage or a malfunctioning cooling system threatens to ruin your carefully curated stock of perishable brews or spoils the well paired food you want to serve with it. Refrigerated products coverage can cover damage to perishable stock stored in refrigerated or cooling equipment.  
Cyber Risks 
Craft breweries face the persistent risk of cyber threats. These threats can come in various forms, including data breaches, ransomware attacks, and phishing attempts. Craft breweries often store sensitive customer information, financial data, and proprietary recipes, making them attractive targets for cyber criminals. A successful cyberattack can result in severe consequences such as compromised customer data, financial loss, damage to reputation, and operational disruptions. Cyber liability insurance can help protect against data breaches and cyber threats. 
Equipment Breakdown 
The brewing process is highly sensitive, and any equipment breakdown can lead to spoilage and disruptions in business operations. Electrical breakdown is the most prevalent type of equipment breakdown loss for microbreweries, followed by mechanical breakdown of refrigeration equipment. Pressure vessels, such as brew kettles and mash tuns, are susceptible to equipment breakdown. In addition, steam or hot water is essential to the brewing process, making the reliability of the boiler system critical to operations. By having Equipment Breakdown coverage, you can protect your brewery from these risks and ensure smooth operations. 
Craft breweries have captivated consumers with their distinct flavors and community involvement. They require an insurance agent and company that share this same commitment to the local community. Teaming up with experienced insurance professionals, breweries can customize their insurance policies to address their specific needs and safeguard their business.