Roadside Stands and Farmer's Markets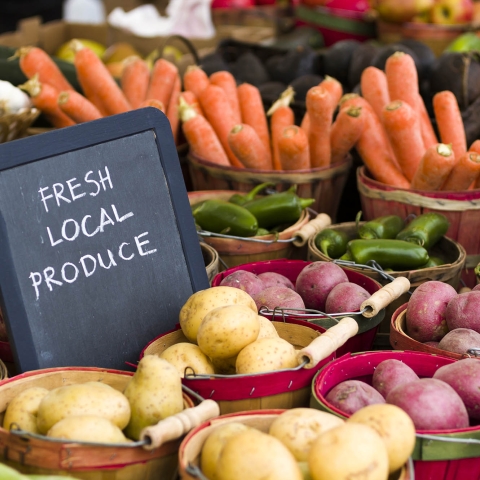 What You Need to Know About Selling at Farmer's Markets
Rows of red heirloom tomatoes, fresh eggs, and green beans by the handful. The allure of fresh, locally grown food has people flocking to farmers markets in the summer. There is comfort knowing where your food came from and talking to the farmers who grew it. The market also provides a fun social outing.
It's rewarding to sell directly to customers and see the appreciation for the produce you grew. Startup costs are low, and you are paid in cash immediately. Even with all these positives, there are risks you should consider.
Roadside Stands
When setting up a roadside stand on your property, make sure that the stand can be easily accessed. The walkway should be flat and easy to walk. Having an area for cars to easily pull in and out is ideal.
Transporting your goods
If you, or one of your employees, are transporting goods in a personal auto, there could potentially be coverage issues. Make sure that your policy covers business use for your autos.
Your Booth or Display
Once at the market, your tent or displays can separate you from the competition. Creating an inviting booth will encourage customers to stop and shop. You also need to make sure the booth is arranged for easy access to the products and ensured safety. Most people aren't looking down, as they enter your booth space, so make sure there are no tripping hazards.
Are you selling whole products or prepared food?
Selling raw tomatoes, peppers, and onions is quite different than selling your homemade salsa. Some states require food products to be produced in a commercial kitchen. Also, labeling is particularly important. If the name on the label doesn't match the name on the insurance policy or if it is not listed, you may have a gap in coverage.
There are also risks when selling unprocessed items such as lettuce, melons, and eggs. Selling directly to the public means that any foodborne illness directly falls on the seller. This is true whether you are selling at a farmer's market, a roadside stand, or even just selling to a small group such as a few neighbors or co-workers. Every year we hear of outbreaks of listeria, E coli, or salmonella poisoning. These can vary in severity from mild symptoms to hospitalization. The bottom line is that even an exceedingly small exposure, like selling eggs to co-workers, can result in a claim where you are potentially responsible for medical bills.
Stay protected
To make sure you are covered, talk to your insurance agent regarding your plan to sell produce directly, whether it is through a farmer's market, roadside stand, or just to friends and neighbors. Your agent can make sure you have the coverage needed to protect your farm, your family, and your livelihood.