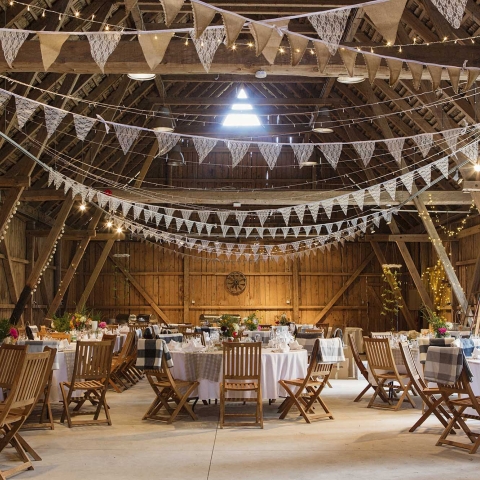 Five Tips for Hosting a Barn Wedding
Who doesn't love a barn wedding? Cocktails in mason jars, wildflowers, picturesque fields, and woods all make for a one-of-a-kind wedding day. Websites like Pinterest are filled with photos of romantic rustic wedding décor. Renting your barn as a venue for weddings is something farmers may consider to earn extra money. And even if you weren't considering renting out your barn, that doesn't mean you won't be approached by friends or family asking you to host a wedding.
However, normal working farm conditions are much different than the conditions expected for a wedding. And odds are, your farm isn't a professional event venue. Here's what you need to know when hosting a wedding at your farm.
Celebratory drinking: let's start with those cocktails in mason jars. Many mishaps start with an open bar. Even if you aren't providing liquor, the liability for a drunken injury can be extended to you as the host. Each state has different liability laws for host liquor, so make sure to understand what applies to your farm. Consider requiring the happy couple to employ a certified, experienced bartender who is independently insured to serve. Keep in mind that open bars increase the chance of excessive drinking or underage drinking, and all the risk that is associated with it.
 

One of the main hazards during any wedding is slip and falls. Uneven walkways and gravel parking lots can increase the chances of a fall. If you are providing the dance floor, make sure to have it thoroughly inspected so that when Cousin Karen kicks off her shoes to do the Cha Cha Slide, she doesn't run into any old nails.


 

In addition to inspecting floors, electricity is another high-risk element that should be inspected. Strands upon strands of twinkle lights, the DJ's sound system, catering needs, and more can overwhelm a faulty circuit and increase the chance for fire. Also pay attention to the décor. A mix of candles and hay bales is great for ambiance but bad for risk of fire.


 

A working farm also has a variety of dangers that you inherently know how to handle but wedding guests may not be familiar with, such as electric fences, interacting with farm animals, and the choice of footwear when walking around a farm that was made for boots, not wing tips or stilettos.


 

Consider food preparation, proper washing, and sanitation. You could be liable for an outbreak of norovirus or salmonella. To lessen this risk, make sure the caterer is familiar with the limitations of the venue so they can plan accordingly. Preparing the food off-site is an option to lessen this risk. Check to be sure the caterer is insured, insist on being listed as an additional insured for the event and obtain a certificate of insurance from the caterer.
If you decide to rent your barn for a wedding, celebrate being part of a day the new bride and groom will remember for all the right reasons. While you can't control the risk of rain on the big day, you can take actions to lessen the risk of injuries.
Talk to your independent insurance agent if you decide to have a wedding on your property, whether it's someone you know or you are renting it as a side business. In addition to loss control efforts your agent suggests, there are coverages that can also help provide the protection you need.