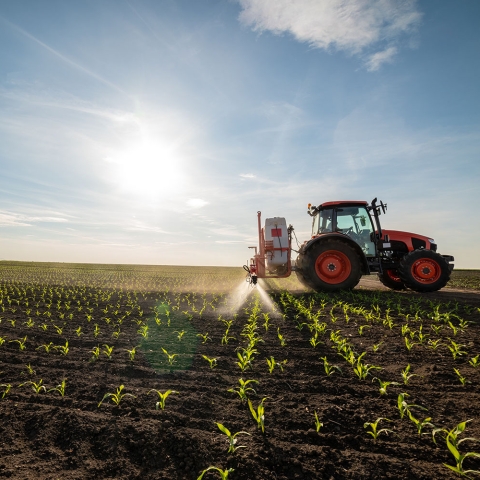 5 Tips to Avoid Farm Pollution Incidents
Pollution is one of the largest potential liability risks for the agriculture industry. Runoff from herbicides, pesticides, fertilizers, and other farm chemicals may affect water quality. Overspray and fumes may affect the quality of the air. It's important for farmers to monitor this risk and have the means for cleanup if a pollution incident occurs.
Many farms have multiple locations. Traveling between these locations with farm equipment such as bulk manure tanks or sprayers can increase the chance of a pollution incident. Cleanup costs can be substantial, whether the incident occurs on your farm or traveling between locations. Insurance can help transfer some of the risk, but it's important to also take steps to decrease the chance of an accident in the first place.  
Tips to help avoid farm pollution incidents:
Follow manufacturer's guidelines for storing, mixing, and spraying farm chemicals

Make sure employees are properly licensed (if required) and trained to work with herbicides, pesticides, and other farm chemicals. Even if a license is not required, employers may want to consider having them become licensed

Maintain appropriate distance from property lines, dwellings, and water sources for fuel tanks and other farm chemical storage

Know and follow the regulations for solid and liquid animal waste storage

Have a farm safety program that includes clean-up and spill response. Make sure your employees know what to do if an incident occurs
Insurance
Despite following best practices, pollution incidents can and do happen. Pollution Liability Coverage can help protect against a sudden and accidental farm pollution incident of discharge, dispersal, release, or escape of pollutants on land, water, or air.
Keep in mind, your farm may need more than the base farmowners policy when it comes to pollution coverage. For additional protection, consider the Indiana Farmers Insurance Limited Farm Pollution Liability endorsement. The endorsement has a variety of options to meet your farm's needs – including limits up to $1M.
Contact your independent agent to make sure you have the coverage you need to protect your farm, your family, and your livelihood!