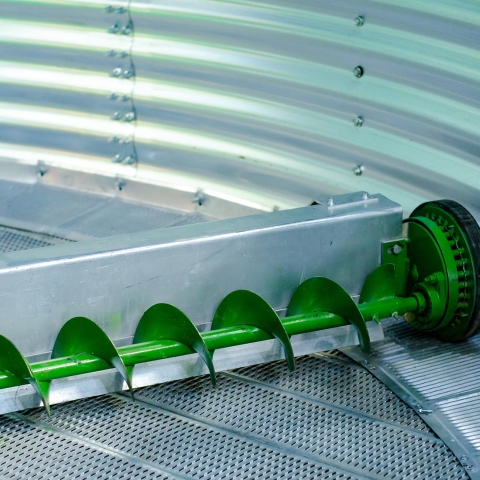 Preventing Grain Auger Accidents
Farming is one of the most dangerous jobs in the United States. According to the Centers for Disease Control and Prevention (CDC). In fact, 410 farmers and farm workers died from work-related injuries in 2019.
One of the most common, but preventable accidents can occur when working with and around grain augers. Augers are an integral part of grain farms and get a lot of use. Many farmers remove auger covers for ease of cleaning and maintenance and then do not replace the cover. This small cover is one of the most important safety elements in a grain farm. When a portable auger is moved around the farm, it is a large hazard that becomes even more dangerous. Even in the hands of experienced farm workers, it is critical to respect grain augers.
Unfortunately, the following types of grain auger accidents are all too common:
Cuts and Fractures 

− An auger's sharp corkscrew blade rotates as it draws grain up. Coming into contact with an unguarded blade can result in mutilation.


 

Loss of limbs 

− Contact with and/or entanglement in the exposed screw at the intake end of the auger's shaft often results in

amputations

. Fingers, arms, hands, and feet are at elevated risk of amputation when caught in an unguarded auger.
 

Electrocutions 

− 

Electrocution

is a frequent result of moving a raised grain auger around the farm and coming into contact with electrical wires.
 

Death

.
These accidents are severe, and prevention should be taken seriously. Farmers can reduce the risk of injury in death by taking these steps:
Make sure all workers are adequately trained and supervised.


 

Regularly inspect augers to ensure all protective shields supplied by the manufacturer are in place and in good working condition. Guards around PTO shafts and drive mechanisms are essential. Older grain augers may have guards that should be replaced.


 

Never remove protective grates or shields from augers or other conveying equipment.


 

Do not wear loose or tattered clothing, clothing with draw strings, straps, jewelry and long, untied hair.


 

Never step over a running PTO shaft.


 

Always lower grain

augers to the horizontal or transport position before moving the grain auger. Take note of overhead power lines before moving the auger and raising it in the next location. Electrocution is a frequent result of moving a raised auger that encounters electrical wires. According to the University of Illinois Extension, "If possible, it is safer to have electric lines to bins buried under the ground."
Following some simple safety practices can ensure that the family members or employees on the farm are protected from preventable accidents. More information on farm safety and accident prevention can be found at www.osha.gov.